Pumpkin Love....
It seems like everyone is pumpkin crazy this year. Everywhere you look there is pumpkin spice
something
for sale. From the Pumpkin Spice Latte to pumpkin ice cream to pumpkin candles. Pumpkin is everywhere!
Some of my favorites:
The
Pumpkin Pie ice cream
from Safeway
.
We tried it for the first time last year and I am hoping that I can find it again this year. The graham cracker crust pieces swirled in the pumpkin ice cream give it a truly authentic pumpkin pie taste. Safeway also had a pumpkin yogurt last year that was super tasty.
Coffee-mate
Pumpkin Spice Creamer
. Move over Starbucks. This is the perfect way to easily recreate the PSL at home. I have actually never bought this because I don't buy creamer but I have a friend who buys it (for me, perhaps?) and when we are at her house scrap booking it is my creamer of choice in the fall. Maybe one day I'll purchase my very own!
Green Mountain Coffee Pumpkin Spice
K-cup
. The smell brings everyone in to the kitchen when this is brewing. I fell in love with this one last year and plan to stock up this fall.
And a few I'm eager to try: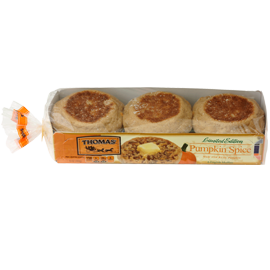 Thomas'
Pumpkin Spice English Muffins.
Although I haven't seen these at stores here yet, I'm hoping to be able to try these this fall. Imagine one of those with your PSL - yum!
Pepperidge Farm
Pumpkin Cheesecake Cookies
. Pumpkin & Cheesecake together? I'm in. With that combo, there's really no way they can be bad.
Pumpkin Spice
Hershey's Kisses. I admit I am a milk chocolate kisses kind of girl. I don't care for most of the new flavors but this one has caught my interest and I will definitely give them a try because you just never know.
What pumpkin products are on your shopping list?